PEP - Particle Environment Package
PEP (Particle Environment Package) is a particle spectrometer to measure neutral and charged particles in the Jupiter system. The PEP-Instrument onboard JUICE consists of two units with a total of six different sensors.
PEP-Lo (JEI, NIM, JNA, and JDC)
PEP-Hi (JoEE, JENI)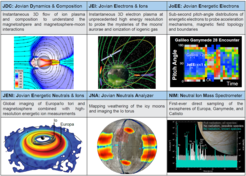 Scientific Goals
Based on the JUICE science matrix PEP will tackle the following research topics:
Ganymede: Which interaction processses exist between the rotating Jovian magnetosphere and the complex Ganymede system?
Callisto: Characterization of the moon Callisto as a relict of the evolution history of the Jupiter system.
Europa and Io: Study of active regions on Europa and Io; remote sensing of neutral gas tori;
Remote sensing of the irregular satellites and the ring system.
Jupiter's magnetosphere: Study and influence of internal and external plasma sources in the Jupiter system; studiy of acceleration mechanisms; characterization of the "magnetodisc".
In detail::
Determination of temporarily highly resolved three-dimensional velocity distributions in the Jovian magnetosphere, and especially in the vicinity of the moons Europa, Ganymede and Callisto
Determination of the Ion-composition in the Jovian magnetosphere.
Characterisation of the interaction processes between the magnetospheric plasma and released particles from the surface of the moons.
Characterisation of processes relevant to dexcribe the Jovian aurora and the Ganymede aurora.
Highly resolved pitch angle distributions of ions and electrons in the Jupiter system to investigate acceleration mechanisms.
Global Investigation of charged exchange processes between "cold" neutral gas and "hot" ions (ENA-Imaging).
Study of "weathering"-processes on the surfaces of the moons through sputtering and release of neutral and charged particles.
Characterisation of the moon's exospheric composition.