Mechanical workshop and Fitting Shop
All mechanical workpieces needed for the scientific instruments manufactured at the MPS are constructed in the precision mechanics workshop. The members of staff mainly use CNC machines for this (lathes and millers), but also conventional machine tools. The processing programs for the CNC machines are written with the CAM software.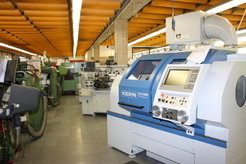 Aluminium alloys are most often used, but stainless steel, titanium, tungsten, invar, platinum and vacuum-resistent plastics are also adopted. The various workpieces are mostly produced individually from the detailed construction drawings.
Members of staff are working on many pieces that need skills in measuring and surface techniques. A multifunction laser is used to produce workpieces out of thin material that are cut and labled, for instance. The pieces produced at the MPS as well as procured parts are checked by members of staff for accuracy with a coordinate measuring machine and a measuring microscope. Because surfaces are very often finished at the MPS, these tasks are organized, supervized and closely controlled by members of staff in collaboration with the commissioned companies.
The fitting shop produces substructures, distributing devices and similar machinery for the testing facilities at the MPS. The materials used are stainless steel and aluminium. The processes include soldering of complex workpieces, high-frequency soldering of thinnest metal plates as well as small pieces and bent metal parts. Another task of this department is distributing and attaching the cables that provide the vacuum chambers high-purity gases.