In memory of Arne K. Richter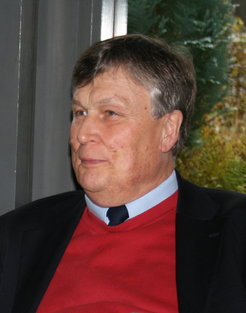 Dr. Arne K. Richter, employee of the Max Planck Institute for Solar System Research (formerly Max Planck Institute for Aeronomy) of many years, deceased on August 2nd, 2015.
Arne Richter worked at the MPS for more than 30 years. His main fields of research included statistical mechanics, modelling of gases and plasmas as well as the magnetic fields and low-energy particles in the interplanetary medium and close to planets and comets. He contributed to more than 20 space instruments and numerous space missions such as HELIOS-1 and -2, Ulysses, VEGA I and II, PHOBOS I and II as well as Giotto.
Apart from his scientific work, Arne Richter made a name for himself through his never-ceasing work for the scientific community. Together with colleagues from the Max Planck Institute for Aeronomy he founded the Copernicus Gesellschaft e.V. in 1988, a society that organizes numerous conferences in the field of Earth and Space Sciences (for example the annual Meeting of the European Geoscience Union) and publishes Open Access Journals. For several decades he shaped the development of Copernicus. In addition, he held influential offices within the European Geoscience Union and the American Geophysical Union. The EGU's Arne Richter Award for Outstanding Young Scientists was named after him to honor his never-ending efforts to promote early career scientists.
His dedication was felt also in his direct surroundings. At the institute he was a member of the Works Council, the Committee on Further Education and Chairman of the Computer Committee and again and again became active to help and support colleagues.
With Arne Richter the scientific community loses a never-ceasing and creative man of action. The MPS mourns an esteemed colleague and friend who will be especially remembered for his social commitment, his dynamic and hands-on manner and his cheerful nature.