JUICE's sensor JEI soon to be integrated into spacecraft
The sensor JEI has arrived at Airbus Defence and Space GmbH in Friedrichshafen. In 2022, it will travel to Jupiter on board ESA's JUICE space probe.
The sensor JEI (Jovian Electron and Ion Sensor), which scientists and engineers at the Max Planck Institute for Solar System Research (MPS) developed and built for ESA's JUICE (Jupiter Icy Moon Explorer) mission to Jupiter, has reached a further milestone on its way into space. Together with other sensors of the PEP (Particle Environment Package) instrument package, JEI has now arrived safely at Airbus Defence and Space GmbH in Friedrichshafen. In the next few weeks, it will be connected to the space probe. JUICE is scheduled to be launched into space in mid 2022 to reach Jupiter seven years later.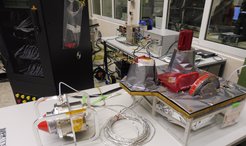 PEP-JEI is one of a total of six sensors in the PEP instrument package. In the Jovian system, JEI will determine the distribution of electrons and ions. On board the spacecraft, the six sensors are bundled into two units each: PEP-Lo, consisting of PEP-JEI and three further sensors, and PEP-Hi consisting of two sensors.
After JEI was completed at MPS this summer, its first route led to Switzerland. In the department "Space Research & Planetary Sciences" of the Physical Institute of the University of Bern, the four sensors of PEP-Lo were connected and their interaction tested. Now PEP-JEI has taken the next step of its journey and reached Friedrichshafen as part of PEP-Lo. In the laboratories of Airbus Defence and Space GmbH, the scientific instruments of the JUICE mission will be integrated into the space probe over the next weeks and months. However, it will still take several weeks until the PEP family photo in Friedrichshafen is complete. The two sensors constituting PEP-Hi are not expected there until early next year.
Meanwhile the preparations for JUICE are also continuing in the MPS laboratories. Scientists and engineers are now working on the flight spare unit of JEI, an identical twin of the sensor in Friedrichshafen.