Registration Information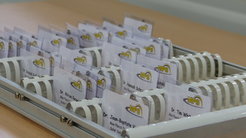 Registration is closed.
In case of questions, please contact us through e-mail.
The registration fee of 300 EUR covers
participation in the tutorials and the science sessions including coffee breaks,
lunches from Mon through Friday at the conference venue (MPS foyer),
a welcome reception on Monday evening to start science discussions (MPS foyer),
a simple barbecue on Tuesday evening with a poster session and more (MPS foyer), and
the conference dinner on Thursday evening with a meeting summary (Göttingen botanic garden)
The registration fee for an accompanying person is 70 EUR.
The payment should be done via bank transfer. Details will be given in the letter you will receive following successful submission of the registration web form. If bank transfer is not an option for you, please contact us via e-mail after you received the acknowledgement letter from the web form and we will find a solution.
Invitation letter for visa
If you need a letter of invitation to obtain a visa, please contact us via e-mail (iris-9@...) . Before we can process the letter, you have to register on-line, so we have your affiliation information in our data base. Please also provide us with a scanned copy of your passport to prepare the letter of invitation. In the invitation letter we would then state the dates of the conference, your name, affiliation and passport number. By default we will send you a scanned version of the signed letter in PDF format via e-mail. If you need a printed copy, please let us know.